Redondo Beach News & Events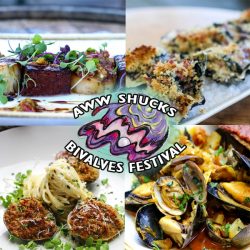 A bivalve is a class of marine and freshwater molluscs that have laterally compressed bodies enclosed by a shell consisting of two hinged parts. They include clams, oysters, cockles, mussels, and scallops. That's a lot to celebrate so be sure to join us for Lunch, Dinner and brunch on the weekends.
All three Salty's welcome Christmas Ships in December. Join us for this not-to-be-missed holiday celebration. Both West Seattle and the Redondo Beach community welcome The Argosy Christmas Ship Festival, a holiday tradition in the Pacific Northwest since 1949.
Salty's Thanksgiving is an annual tradition with many families in the Northwest. Our extravagant amazing buffet features traditional turkey fixings, plus Pacific Northwest fresh seafoods, freshly baked pastries and desserts — you'll be grateful for a bounty so big!